empowering women
accelerate your return to work
If you are like many professional women, you took a voluntary career break and are now struggling with how to re-enter the workforce.
The reacHIRE Candidate
reacHIRE was designed to support your career success through exclusive corporate returnships and cohort training programs. We'll help you build on your past professional achievements with the latest business and technical skills — plus leadership training to empower your advancement. We'll connect you with corporate clients committed to fostering gender equality in the workplace by creating new opportunities for women returning to work.
With reacHIRE, you will have access to free, in-depth training programs, ongoing professional support and a community of talented, accomplished women restarting their careers just like you.
reacHIRE Alumnae Profile - Trisha
We recognize that the right cultural fit is just as important as the work you do. That's why we focus on working with our corporate clients to create returnships and permanent-based roles that are specifically designed to fit your needs, both personally and professionally, at no cost to you.
We are proud to say that reacHIRE has helped countless women find rewarding career opportunities at exciting, fast-growing companies who value the talent and power of returning women.
"The reacHIRE program enabled me to bridge that "gap" by providing a structured training program on relevant skillsets in demand in today's job market and matching program participants with potential employers."
— Jenny, reacHIRE graduate
why reacHIRE?
Making the decision to return to work is difficult for many people. Figuring out the best path and partner to help you shouldn't be. reacHIRE provides the support and clarity for an effective journey. With an emphasis on refreshing skills and renewing confidence, reacHIRE provides you with the tools necessary to successfully and confidently return to work.
Skills Refresh
Get up-to-speed on the latest technology and business skills to hit the ground running.
Increased Confidence
Enhance your presentation and leadership skills, gain feedback and quickly re-establish your strengths and confidence.
Cohort Community
Leverage the power of small group training, create lasting connections and an enhanced life-long network.
Dedicated Support
Ongoing program management support to provide guidance along the way.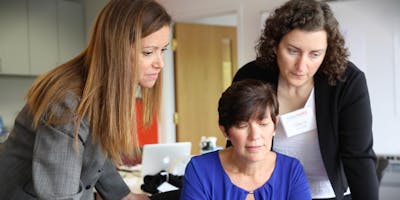 Apr 25, 2018
This program is free to qualified candidates. Please tell us about yourself by clicking on the register button and completing our application for consideration.
Looking for more information? Take a minute to tell us more about yourself and we will follow up with you on opportunities, information or an appropriate contact.